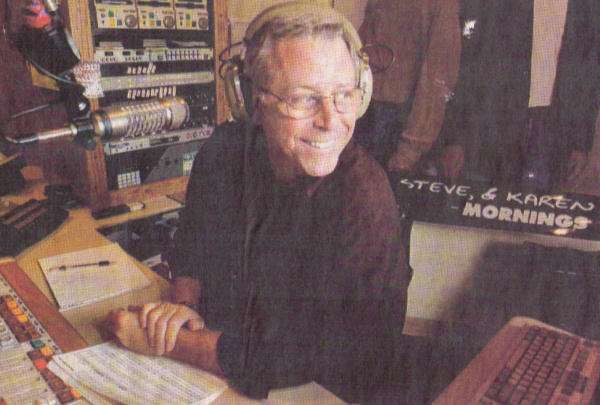 "I could have gone more places for more money, but in the end what would the result be but more
money?" says Tom Prestigiacomo of his 25-year run as afternoon drive-time deejay at FM 100.
Long Player
Deejay Tom Prestigiacomo shows staying
power in an often-turbulent profession
By Tom Walter
Twenty-five years is a long time for someone to work anywhere. But at a radio station in one of the most volatile professions there is? And on the same shift for all 25 years?

Radio people could their tenure in dog years: 25 years to a disc jockey is like 165 in human years.

Well, it might not be that dramatic, but when Tom Prestigiacomo celebrates 25 years on the air on FM 100 this Friday, it's worthy of note.

Prestigiacomo owes his job, indirectly, to another FM 100 veteran. Ron Olson left FM 100 in 1978 and Tom Prestigiacomo came to fill his afternoon drive-time shift when another jock didn't work out.

Se he was once removed from Olson (who returned to FM 100 in 1983 to stay) and, once he took over the afternoon drive-time shift, hasn't budged or been nudged since.

"It's not common at all. It's just amazing. I personally have never known anybody who to do this," said FM 100 general manager Terry Wood. "It's not unusual to be on a station for a longer period of time, but to be in one place as an on-air talent in the same shift, I've never heard of it before, although I'm sure it happens. There are legendary morning show personalities in places, but those are really, really rare."

They are rare because talented personalities in markets the size of Memphis (the 48th largest radio market) tend to go to larger cities to pursue fame and fortune.

Don't tell Prestigiacomo that.

"I could have gone more places for more money, but in the end what would the result be but more money?" he asked.

That's one of the reasons the Louisville native stayed. His two children were born here. His late wife, a native Memphian, taught school here. He loves the city. He appreciates the support he got from the station when his wife became ill from cancer.

He has lots of reasons to stay, but why did the radio audience stay?

"When you hear Tom on FM 100 and you meet Tom in person, he's the same guy. He's as real as they come, as natural as a redwood tree in California," said Danny Ocean, the station's program director (the 11th Prestigiacomo has seen) who's been on the job here less than a month.

One of the things program directors do, though, is listen hard when their talent is on the air.

"Certain people emote different things," Ocean said. "He emotes genuine, natural."

Prestigiacomo, 52, said it's been an advantage to grow older with his audience.

"We're the first generation of jocks who actually grew up with their audience," he said. "We at FM 100 have always appealed to our target (which in radio tens to be the 25-54 demographic), and so the things you talk about are completely different" than they were 25 years ago, he said. "It's welcome home teachers, hello to car pool moms. The focus changes from where to go out tonight to what's on TV."

What's even more remarkable is that Prestigiacomo - along with morning deejays Ron Jordan and Steve Conley - survived the vicissitudes of the radio biz, where stations sometimes change formats as often as the rest of us change socks. FM 100 has tweaked its format over the years, but has remained essentially an adult contemporary station.

"It's popular music for people with three-digit IQs," he said. "We're family-oriented. That's what we've always been."

"It's not easy getting people interested in listening to you day after day. It takes a certain enthusiasm, which Prestigiacomo still has.

"My energy level is the same because I wake up every morning and I think 'I get to go to work,' not 'I have to go to work," he said.